DOMESTIC & SEXUAL ABUSE ADVOCACY - HIGH RISK SERVICE
INDEPENDENT DOMESTIC VIOLENCE ADVISOR (IDVA)
To refer a woman to any of our support services below, please complete Referral form for Greenwich Borough / Referral form for Bexley Borough and email back to info@hercentre.org or call 0203 260 7772 for more information.
DOMESTIC ABUSE & VIOLENCE
Our specialist team of Independent Domestic Violence Advocates (IDVAs) is accredited by CAADA as a Leading Light. The IDVA team work one-to-one with women experiencing high risk domestic violence and offer:
Safety planning
Emotional support
Practical help and information
Risk assessment and referral to MARAC (Multi Agency Risk Assessment Conference)
Advice on family legal issues, assistance with accessing civil remedies and referral to solicitors
Support when attending County, Magistrates and Crown court
Empowerment strategies to make informed choices
Benefit advice
Housing advice
Immigration advice (signposting to specialists)
ADVICE
Additionally, we offer specialist advice for all women experiencing domestic or sexual abuse at our weekly One Stop Shop at YMCA.
One Stop Shop (drop-in for all women experiencing domestic and/or sexual abuse)
Fridays at 10am to 12pm
YMCA Thames Gateway, Antelope Road, SE18 5PQ
We now also have Law student volunteers to support women in Court - see page 19 of the Home Office Newsletter.
YOUNG WOMEN'S RELATIONSHIP ABUSE
Specifically for young women (aged 13 – 19 years) we have a Young Women's IDVA who offers one-to-one support for any young woman experiencing relationship abuse, sexual violence or sexual exploitation. She also designated as the borough's Young Person's Violence Advisor (YPVA).
A short video on New Leaf Project which supports young people in healthy relationships.
Her Centre, Tryangle and Little Fish Theater are the Greenwich project partners working together to work with vulnerable young men and women at risk of domestic violence & abuse.
Her Centre together with Little Fish, hosted a successful and well attended " the young people's project launch" on 4th of October 2016.
RAPE & SEXUAL ABUSE
Our Independent Sexual Violence Advocate (ISVA) works one-to-one with women who have experienced a wide range of sexual abuse, including: rape or attempted rape (including partner/date rape and stranger rape), sexual assault, any non-consensual sexual contact.
Our ISVA provides emotional support, advocacy and advice in the form of:
Safety planning
Support and accompaniment to court, medical exams, housing and benefit interviews
Assistance with accessing civil remedies (including non-molestation orders)
Risk assessment and referral to MARAC (Multi Agency Risk Assessment Conference)
Empowerment strategies to make informed choices
Emergency housing advice
Time to talk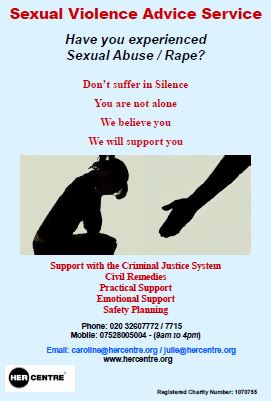 COUNSELLING
Our Counsellor works one-to-one and in groups to provide therapeutic support to women who have experienced domestic and/or sexual abuse (whether in childhood or as an adult). As well as working with individual clients, she currently runs a weekly therapeutic group, a weekly motivational group and facilitates a Non Violent Resistance group to support mothers with children who are displaying problematic behaviours as a result of living with domestic abuse.