PARTNERSHIPS
We work enthusiastically in partnership with a large number of Greenwich-based agencies to ensure women receive the most appropriate local support they require.
Our partnerships include: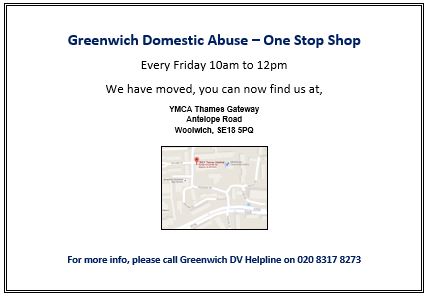 One Stop Shop
We lead the weekly One Stop Shop for women experiencing domestic abuse alongside Housing For Women & Solicitors from Hudgell & Partners.
New Leaf Young People's Project
We lead the New Leaf young people's project targeting relationship abuse in collaboration with Little Fish Theatre and Tryangle Project. For more information about the project, please see our New Leaf flyer and to keep in touch with the project, please find us on Facebook and Twitter.
A short video on New Leaf Project which supports young people in healthy relationships.
Her Centre, Tryangle and Little Fish Theater are the Greenwich project partners working together to work with vulnerable young men and women at risk of domestic violence & abuse.
New Leaf "the young people's project" launch event, coming up on 4th of October 2016. Join us to learn more about this exciting project with presentations, information & refreshments.
Bexley DSV Youth Project
Bexley DSV Youth is a three-year partnership between Her Centre & Little Fish Theatre. The project has been set up to support young people aged 13-19 years in healthy relationships, working with survivors, perpetrators and young people at risk of domestic & sexual violence.
For more information about the project, please see our Bexley DSV Youth flyer, also please find us on Facebook.
Training
Our training is supported by Greenwich Local Labour and Business, MOSAC, City Lit and Social Action for Health.
Advice
Our weekly drop-in and advice services are hosted by YMCA, Woolwich.
Other local partnerships:
We are part of the Greenwich Equalities Forum with Metro Centre (for the LGBT community), MARAC & Steering Group, Greenwich Association of the Disabled, AgeUK Bromley and Greenwich, and Greenwich Inclusion Project (GRIP).
We are members of the Multi Agency Violence against Women and Girls (VAWG) Forum, VAWG Strategic Board, Greenwich Community Advice Network, Child Safeguarding Prevention Group, the Greenwich Homelessness Forum and Greenwich Action for Voluntary Service (GAVS) forums.
Additionally, we work closely with the Met Police Community Safety Unit, the SCD2 Unit, The Point, Best Beginnings, Stephen Lawrence Centre, Volunteer Centre Greenwich, Greenwich Housing Rights, Family Information Service, Meridian Money Advice, Greenwich Credit Union, Woolwich CAB, Plumstead Law Centre, Greenwich Health Visitors, Mind in Greenwich, Greenwich PCT, Advocacy in Greenwich, CAMHS, Oxleas, and Councillor Janet Gillman, Rt. Hon. Matthew Pennycook MP and Rt. Hon. Teresa Pearce MP.