Her Centre's Big Give Christmas Challenge: (Big Give Flyer)
We're very excited to let you know that Her Centre has been selected to participate in the #BigGiveChristmasChallenge, the UK's largest match funding campaign.
Last year, thanks to generous supporters like you, the campaign raised over £20,400 for the Her Centre.
We will be raising money for our project, 'Supporting Women Back to Work' which will help transform their lives.
Donations to this project will be matched for 7 days from 29 November to 6 December 2022.
ONE DONATION, TWICE THE IMPACT!
What happens during the Christmas Challenge?
Donations made to our project via theBigGive.org.uk will be doubled during the campaign. If you would like to support our work this year, we highly recommend doing so during the Christmas Challenge, when your donation will be doubled and make even more of a difference to us.
What do I need to do to support the Her Centre Fundraising Campaign? 
Scan the below QR Code: Open the camera on your smartphone, point it towards the QR Code, and click the corresponding link that pops up so you can be redirected to Her Centre Big Give Donation Page (Her Centre's Big Give Christmas Challenge)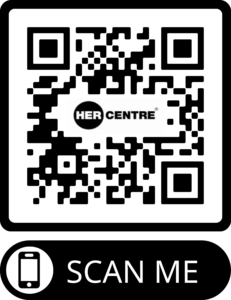 Please note the donate button will appear tomorrow (Midday) on the campaign page when the Christmas Challenge launches.
The Big Give Christmas Challenge takes place from 12 pm (midday) Tues 29th November to 12 pm, Tues 6th December 2022. This means that all donations made to participating charities can be doubled!
If you have any questions, don't hesitate to contact us at eunice@hercentre.org.
Finally, please pass on this message to anyone you think might be interested in supporting us and having their donation doubled.